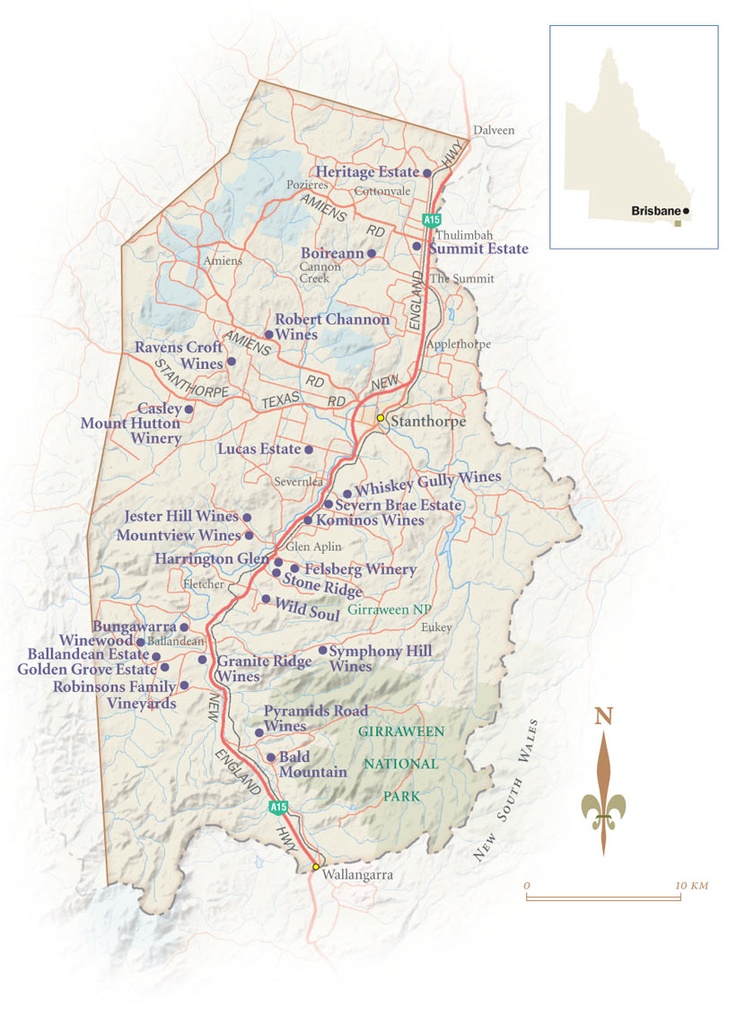 The Granite Belt
Located at 1000 metres above sea level, Queensland's capital of cool is only three hours drive from either Brisbane or the Gold Coast. With four distinct seasons, the premier wine producing area also experiences unique growing and ripening conditions, unlike anywhere else in Australia.
The combination of cool weather and decomposed granite soils produces outstanding wines and a very diverse range of food. Wine production in and around Stanthorpe represents more than 60% of all Queensland production and the region is home to over 30 winery cellar doors.
Stanthorpe is the heart of the Granite Belt offering a range of diverse wine food experiences, pamper products, boutique accommodation and access to some magnificent national parks, including Girraween and Sundown. There are a number of self drive trails, or you can reserve your place on a professionally guided tour. Winter's frosty Brass Monkey Season is the peak tourist time, followed by Primavera – the spring season of events including the Australian Small Winemakers Show. Summer offers cool mountain temperatures and a feast of fresh produce and in the autumn the glorious colours of the changing season provide a visual treat.
The Granite Belt is quickly growing an enviable reputation for its complex elegant cool climate wines, in particular for alternative varieties.
In years past, local wine producers felt compelled to replicate the mainstream varieties and styles of wine coming from Australia's best known regions such as the Barossa. Not surprisingly the significant differences in climate and soil ensured success alluded them with the resultant wine rarely receiving critical acclaim.
This shortcoming was recognised and the local industry began to search for styles and varieties that would best unlock the region's undoubted potential. Thus began the Granite Belt's long affinity with alternative varieties.
Today while 60% of production is from the mainstream grape varieties Shiraz, Cabernet Sauvignon, Merlot and Chardonnay, there are in excess of forty other varieties grown, which has led to the formation of the famous Strangebird Alternative Wine Trail.
While Verdelho was the first golden haired child of the Granite Belt whites, Marsanne and Viognier have risen in prominence while many are expecting big things of Fiano and the recently planted Albarino.
The classic Granite Belt Shiraz is a distinctive peppery, medium bodied wine, more akin to the Rhone Valley than the Barossa. The emerging red varieties to look out for include, tempranillo, graciano, tannat, barbera, saperavi and petit verdot.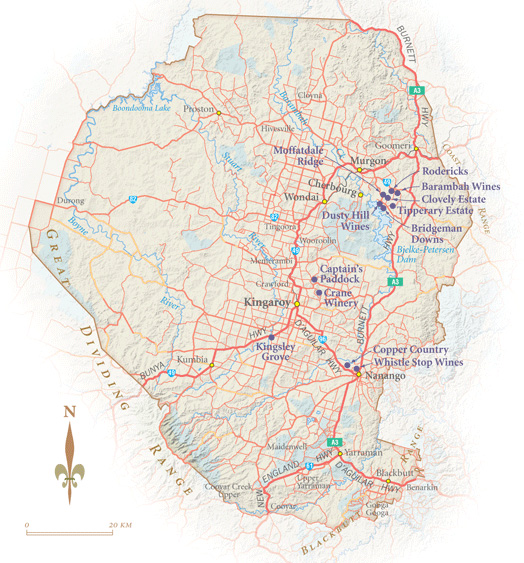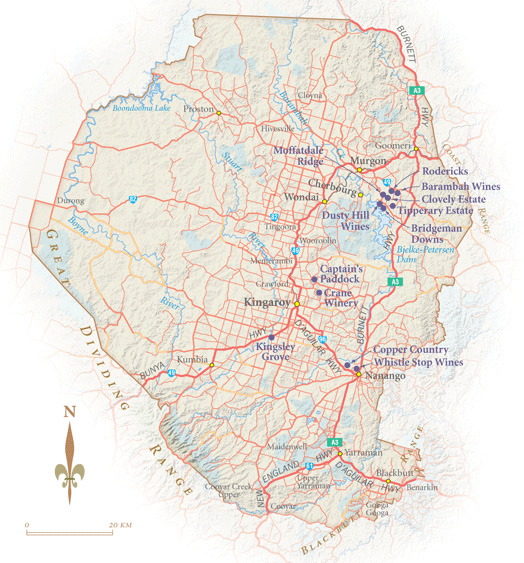 The South Burnett
The South Burnett wine region, located 200km north-west of Brisbane, 150km north of Toowoomba and 150km from the Sunshine Coast, is young and vibrant. By area it's Queensland's largest wine region; home to the State's biggest vineyards and over a dozen Queensland wineries; and it's barely more than a decade old.
But its wineries have already won strings of awards at State and national shows; its wines are served in the Queensland State Parliament and at many leading Brisbane restaurants; and they're also exported to Asia and several other overseas destinations where fine Australian wines command a premium.
When visiting the South Burnett, lovers of white wine should look out for Verdelho, Semillon and Chardonnay. While the South Burnett Cabernet Sauvignon is renown, alternative varieties including Barbera, Sangiovese and Nebbiolo are forging niches in the future of the region.